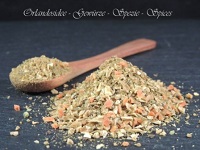 Carioca
Rio de Janeiro, Spice Blend
Carioca, Rios Seasoning for barbequing meat or fish. This delicious spice blend has a wonderful hot aroma and reminds of the temperament Brazil.
Marinate your fish or meat 24 hours prior to preparing in Carioca and olive oil
Ingredients: Ancho Chili, Basil, savory, carrots, garlic, coriander, cumin, bay leaves, lovage, marjoram, mustard seeds, rosemary, nutmeg, paprika, thyme, orange peel, oregano, pastinaken, parsley and onion.
distributor: info@orlandosidee.de