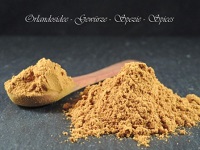 Ras el Hanout
Raz el Hanout is a delicious mixture for Couscous .
Ingredients: turmeric, coriander, allspice, cinnamon, chillies, pepper, cardamom, ginger, cumin, fennel, nutmeg, star anise, orange peels, fenugreek seed, bay leaves
Its catching smell unfolds a hot and pimento taste.
This Raz el Hanout recepy comes directly from Morocco and is made from a professional Moroccan spice master.
This is the typical spice mixture for all north African dishes like the Couscous and Tajines
You should even try it in a lentil soup or on grilled fish.