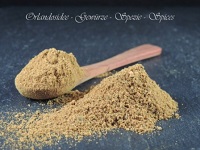 Garam Masala ground
Garam Masala is a North Indian spices blend. This seasoning varies from region to region.
OrlandosIdees Garam Masala is a mixture of : Coriander, Kummel, Zimtstocke, Pepper, cloves, cardamom, Star anise , Bay Leaves
You can add Garam Masala whole or ground. When you grind the spices mixture you have a more intense aroma.
ingredients: Coriander, Kummel, Zimtstocke, Pepper, cloves, cardamom, Star anise , Bay Leaves