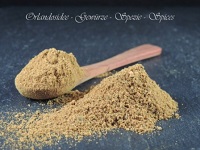 Garam Masala Spice Blend
Garam Masala for Indian cuisine
What is Garam Masala? Where does it come from? What do you use it for?
Garam Masala is a North Indian spice blend. It tastes spicy & warm. We offer it ground in our online spice shop. This allows you to use it immediately.
The name Garam Masala means "hot (garam) spice mixture (masala)". In this case hot means warm and not spicy-hot. This is derived from Ayurvedic medicine. There it is said that Garam Masala has a warming effect on the body.
You can buy several masalas on the market, such as our Tandoori Masala or Masala Maurizius sharp or Masala Maurizius mild.
We would call this spice blend a curry. However, the name curry is not known in India. Here all spice mixtures are called masala.
Our aromatic garam masala is based on coriander, black pepper, cardamom and cinnamon. This mix varies from region to region for the rest of the components. Every cook creates his own masala garam
Culinary use Garam Masala
Garam Masala is a very aromatic spice blend and is often used to prepare Indian dishes. In India, you season almost everything with this delicious mixture. It is the universal spice. You season lentils and bean dishes. It gives in yogurt marinated lamb or goat meat its warm aroma. It also goes with fresh fish, potatoes or vegetable dishes such as spinach. It is also great for making Indian bread such as Paratha.
To enjoy the complete aroma of Garam Masalas, please add it at the end of the cooking time.
Composition: coriander, cumin, cinnamon, cardamom, pepper, mustard, nutmeg, ginger, cloves, garlic, peppers, bay leaves, coriander leaves (contains mustard and may contain traces of gluten and celery)
Please store all spices and blends in airtight containers. Keep them at a cool, dry and dark place