Saffron Sargol CAT 1 A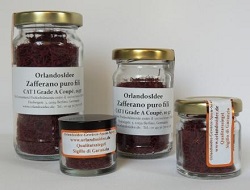 Saffron Sargol 1 A coupé
Coloring grade 240 ISO Norm 3632-2
Saffron - Botanical Description
Saffron - Crocus Sativus belongs to the family of the Iridaceous. The Crocus Sativus (saffron) blooms once a year for approximately 2 weeks. Only during this period of time the saffron can be harvest. The saffron plant is triploid - infertile- and is cultured by dividing the tubers by hand. The purple flower from the saffron blooms in the fall and produces in the middle three Stigmata. These glowing threads are the saffron and with lots of care picked by hand. For 1 Kg Saffron you have to harvest between 80.000 and 150.000 Flowers. The light bitter taste of the Saffron and its intense smell in combination with this wonderful orange yellowy color made the Saffron to an extraordinary Spice.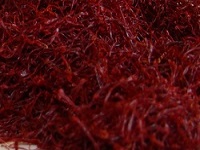 Saffron's Origin
Saffron has its Origin in West -Central Asia but grows now also in the Mediterranean area. The Quality of the Saffron depends on the soil and the production technique (drying and stocking the saffron).
Today's Main Producer of Saffron is Iran followed by Spain and Morocco.

Saffron -Quality Standards (ISO 3632-2)
Saffron is specified under the Specific Quality Standard ISO 3632-2.Under this special technique the saffron is burned and its components analyzed.
Saffron with high level of Crocin encrinsoms dishes very well and is of a high quality.

International Standard ISO 3632-2
Category - Value
1A >190
2 = 150-190
3= 110-150
4= 80-110

Spanish Standard
Category - Value
Coupé = größer als190
La Mancha = 180-190
Rio = 150-180
Standard = 145-150
Sierra = kleiner als 150
Crucial for a high quality saffron is also the level of bitterness. The Minimum Value lies by : Aroma (Saffronal) > 20 Bitterness (Picrocrocin) > 70 .

Saffron Culinary Uses:
The slight bitter taste combines with the wonderful orange yellow color makes Saffron an extraordinary spice. Saffron is used sparingly for the preparation of Foie gras or caramelized Lamb

Forgeries of Saffron
Saffron can be tested with Natron. Is it real Saffron turns the liquid yellow is it not real Saffron (stretched with Curcuma ) turns the liquid red.
Saffron threads can be recognized by its cone formed rolled and upwards notched thread and its 2-3 cm length.