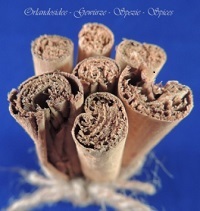 Cinnamon from Ceylon
Cinnamon is the oldest Spices of the world and comes from Ceylon. In the olden Days Cinnamon was not only used as a spices but also a medication against cough and heart problems. Even today the most aromatic Cinnamon comes from.
In the modern Kitchen Cinnamon is used to prepare fruit desserts as well as meat dishes.
distributor: info@orlandosidee.de