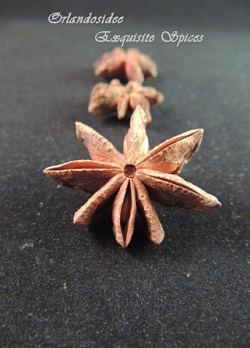 Chinese Star Anise
Star anise has its origin in China and Vietnam. The Star Anise three is an evergreen who grows up to 6 meters in height and carries green yellowish flowers.
Culinary use of the Star Anise
Star Anise unfolds his typical spicy sweet flavor during cooking and gives Chinese dishes an authentic touch.
You can use Star Anise whole or ground (more intensive).
Star Anise is used of course a lot in Chinese dishes but also for desserts. Star Anise is used for sweetmeats, poultry dishes, pork and duck.
Star Anise harmonizes well with Fennel, Pepper, Cinnamon, Cloves and Ginger
distributor: info@orlandosidee.de