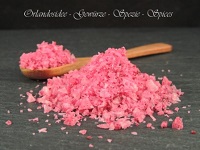 Feur de Sel - Saltflowers - Flor de Sal
The Production of Fleur de Sel
Its purity, color and taste is the result of a complete hand made production. The production process of Fleur de Sel is labor intense and follows traditional production steps.

In the spring, sea water is escorted in artificially established salt gardens. As soon as the water shows a high concentration in salt due to the natural vaporisation of the water, the water is further escorted in more level washbasins.

In the midsummer, on very hot and calm days, even more water evaporates and fine salt crystals form on the water surface. These fine crystals are Fleur de Sel or the salt flowers

The salt flowers are scooped carefully by hand and are dried. Fleur de Sel comes untreated to trade.


The Special aspects of Fleur de Sel
Fleur de Sel is the most popular sea salt among the top cooks. Fleur de Sel is used as a table salt, it has a fine crunchy consistency and a mild taste, on account of a high portion of calcium and magnesium sulphate. It refines your dishes as a table salt. Please do not use Fleur de Sel in boiling water for rice or pasta

Fleur de Sel becomes under others in Brittany: Fleur de sel Guérande, in the Camargue: Fleur de Sel de Camargue, won(got) on Madagascar..

"A middle composition of Fleur de Sel consists in more than 97% of sodium chloride, 0.5% of calcium sulphate, 0.3% of magnesium chloride, 0.2% of bitter salt (magnesium sulphate) and about 0.1% of potassium chloride, the rest(remainder) is remained water \" spring(source) Wikipedia