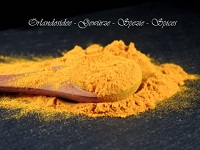 Tumeric
Curcuma
Curcuma - Tumeric is a bright yellow rhizom just like Ginger, which grows under the ground. Curcuma - Tumeric is cooked and peeled before dried for a week in the sun.
Almost the entire World production of curcuma is sold ground as powder.
Culinary uses of Tumeric
Curcuma has a peppery aroma and smells like wood. Curcuma gives your dishes a warm spicy taste with a lightly bitter aftertaste.
In the daily kitchen Indiens replaces Curcuma Saffron because it is cheaper. Curcuma is used in Curries , Chutneys and Rice dishes and lots of more.
distributor: info@orlandosidee.de