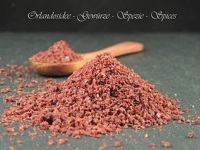 Sumac
Sumac comes from a wild growing bush, they are their ground red berries. Sumac is an important spices in the Turkish, Arabian and Lebanese kitchen. It has a sour taste and is used instead of lemon or vinegar.
Sumac is used for barbequing fish, chicken or meat.
You can also mix some jog hurt and Sumac as a dip for vegetables.
distributor: info(at)orlandosidee.de