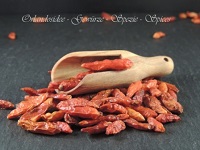 Chile, Chili, Chilli Peppers from Mexico
Piquancy level 1-10: Piquancy 8
Chili Peppers were discovered by Christopher Columbus while he was looking in the new World for peppercorns.
Chile Peppers belong to the family of the Solanaceae. Their exist more than a 150 different types of chilis. Their colors go from green, orange yellow, red to black. The Chilli Plant grows 60 cm high and carries white flowers.
Chili Peppers can be used to spice up any kind of dish.