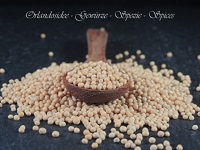 Mustard seeds
Sinapis alba
The mustard plant has its origin in the Mediterranean area. This one year old plant grows up to 60 cm and carries yellow flowers who develop peppers with up to six seeds inside.
Culinary use of Mustard seeds
Mustard seeds unfold their flavor while laying in water. Its aroma is in the beginning nutty and in the end hot.
Mustard seeds go perfectly in Fish marinades.
Mustard seeds go well with All Spice, Cloves, Onion, Bay Leaves and herbs.
distributor: info@orlandosidee.de