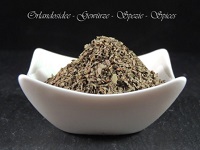 The great variety of aromatic herbs of Europe
Germany, the Greek island Crete, France as well as Italy dispose of a great variety of aromatic, wildly growing herbs. On account of the globalisation, our traveling and consuming behaviour as well as our eating habits has changed. In our kitchens experimental joy and curiosity on foreign eating habits enters.
It not always possible to have all herbs fresh at home. Also many herbs have a more intense flavor dried. Herbs such as savory, mint, oregano, rosemary, thyme, sage... are dried very good and preserve their miraculous aroma.
Culinary uses of Herbs
Every region here in Europe has his own preferred collection of herbs.
In the German kitchen we use above all dill, cress, caraway, lovage, Marjoram, parsley and chives.
The Italian kitchen aromatises with mint, rosemary, basil, sage and oregano.
And last but not least the french kitchen uses mostly tarragon, thyme, garlic and laurel.