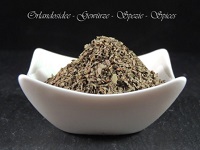 Wild Basil
The Wild Basil is also named Queen of Herbs. Wild Basil for the Romans was a symbol of fertility.
Even today Basil grows wild in nature on the Greek Island of Kreta because of its ideal soil and sun.
Wild Basil goes with lots of dishes. It aromatizes Tomatoes with Mozzarella, makes the unforgettable sauce Italian Pesto and so on.
distributor: info(at)orlandosidee.de