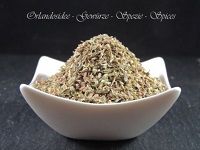 Wild Oregano Crete
Wild Oregano is a variety of the wild marjoram. The Greeks and Romans love this herb. In the early days it was carried as a crown by girls who were in love in the believe that the man they were in love with will love them back.
The Oregano plant has its origin in Greece and carries the name "the pleasure of the mountain".
Oregano goes well with lots of dishes like lamb, Pizza or tomato sauce.
distributor: info(at)orlandosidee.de