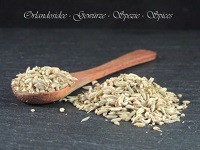 Fennel
Foeniculum vulgare
Fennel belongs to the family of the umbelliferous plants and has its origion in the southern mediterranea area.
Fennel has fine leaves and blossoms yellow.Its fruits consist of two seeds with five fine lines of bluegreen color.
Culinary Use of Fennel
Fennel has a mild spicy and sweet taste similar to Anise and a sweet warm smell.
Fennel is used to prepare soups. It goes wonderfully with Fish especially with salmon.
Ground fennel in combination with flower has a wonderful intense taste and is therefor preferred used for backing.
distributor: info@orlandosidee.de