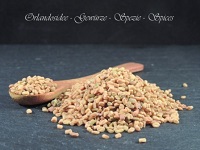 Fenugreek
Fenugreek has its origion in India and Southerneurope. This plant grows up to 60 cm in high and carries light green leaves with white flowers.
Fenugreek is said to be used in the olden days to fight boldness and to lower bloodsugar.
Culinary use of Fenugreek
Fenugreek goes wonderfully with its bitter taste in vegetarian dishes. Fenugreek is also the basis of all kinds of curries and their main ingredient.
Fenugreek is roasted without oil before soaked in water over night and ground to powder
distributor: info@orlandosidee.de