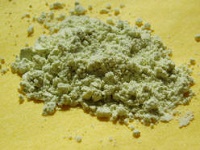 Wasabi, d'Hataka Japanese Spice
"Rose of the mountain", is the Japanese name for Wasabi. It is one of the most used spice in Japan. It is so hot that it is also called Namida which means tear.
Utilization of Wasabi
Wasabi powder is mixed with water or soja sauce which gives you the famous wasabi paste. Wasabi paste is used for Sushi, Sashimi or any other fish dishes.
(horseradish, mustard, acid, Vitamin C, E 133, E102)