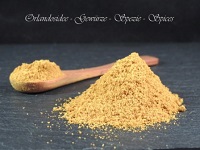 Curry Madras our delicate curry powder
Madras Curry for the Indian cuisine
Our Madras curry powder, Tamil Nadu, has a warm and aromatic taste. If you press the Buy Curry Madras button, you will go to our online shop. Here you can buy many different curry powders online.
In India, curry is the word for a dish, not a spice blend. The Indian dish that is called Curry is prepared in many different ways. It is a simmering dish and is made with a lot of sauce. It can be made with meat, fish or even vegetarian. The most important thing about this dish, however, is that it is prepared with a variety of spices. In India, each family has their own spice combinations for their curry. Yes they are all true spice masters. Since this is not always easy for us to combine the right spices, there are many different curry powders to buy on the market today.
Colombo Curry, Curry Goa - whole spices, Curry English - Currypowder, Curry Malabar, Curry Thai - red Currypowder
Culinary use
Our madras curry refines light meat dishes (chicken, pork) in creamy sauce with coconut milk or yoghurt. Its delicate aroma also refines vegetarian curry dishes.
Curry powder can also be used from universal spice, as in marinades for salads, on grilled vegetables or in vegetable spreads.
Try a curry madras yogurt dip for vegetable sticks. Simply add a 1/2 tsp madras curry to a bowl with 250 gr natural yogurt. If necessary, flavor it with a pinch of salt.
Ingredients: turmeric, coriander, fenugreek, cinnamon, chilli, garlic, ginger, clove, mustard, basil, cumin, pepper, salt, fennel, cardamom, cane sugar
Allergens: Contains mustard and may contain traces of celery.
Storage of spice mixtures
Please fill your spices and spice powder in airtight containers. Storage should be cool, dry and protected from the sun.
We carry 12 different curry powders. Find more here: Curry powder offer