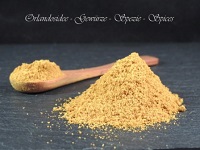 Curry from Madras
Curry is a mix of spices which varies from region to region.
Origin of Curry
This curry comes from a region in south east India named Tamil Nadu in Madras. It is known to be a very warm and full aromatized curry. Its not a hot curry.
Curries are family recipes and carried from mother to daughter over generations.
Utilization of Curry
The Madras Curry goes best with white meet or vegetarian meals.
Ingredients: turmeric, coriander, fenugreek, cinnamon, chili, garlic, ginger, cloves, mustard, basil, rice, cumin / jeera, pepper, salt, fennel, cardamom, Dextrose