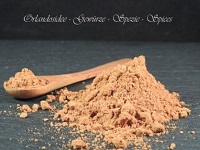 Lebkuchen Spice Colmar (Bread Spice)
This fruity Lebkuchen Spice is a wonderful mixture of cinnamon, green anise, Clove, Ginger and Cardamom.
This mixture has its origin in the antic china. invented in the 13.Jhd, and since the 19 th Century a specialty from the city Dijon.
The Lebkuchen Spice can be used to bake bred or cookies as well as for other desserts like the French Crème Brûlées.
ingredience: cinnamon, all spice , fennel, anise, cloves
distributor: info@orlandosidee.de