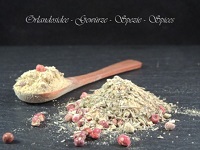 Mixed spices creole
The mixed spices Creole goes wonderfully in a salad, with Artichokes or Auberginen with Feta cheese.
Try it also with meat or fish its wonderful.
Cooks love to create new Spice mixes. From their passion comes this exceptional spices mix Creole created on the Island Reunion
Components of Mixture: fenugreek, Garlic, Ginger, Thyme und Pink Pepper.