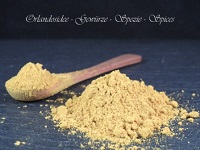 Masala sweet
Masala Mauritius, sweet
Massala Mauritius sweet, is mixed after a very old traditional Indian family recipe on the island of Mauritius. The Masala Mauritius is a mix of 12 spices and herbs selected by hand and grinded by hand on the rocks of Carri.
Curcuma, Coriander und Cumin is about 50 % of this particular mix. The rest is a top family secret.
Masala has a very fine taste and is used just like curry. You can use it with meat, chicken or fish dishes. Even with vegetables.
It is excellent with chicken or fish. It also lightens up vegetable juice (tomato juice).
Ingredients: Curcuma, coriander, jeera, rice, pepper, cinnamon, cardamon, cloves, aromatic leaves