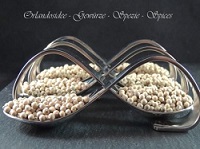 White Pepper from Orlandosidee Cameron
The Orlandosidee Pepper is the best Pepper of the world according to our Gourmet Cooks.
Why is the Orlandosidee Pepper special?
The pepper from Orlandosidee grows on volcanic soil. Volcanic soil is proven to be very rich in minerals and Peppers grown on volcanic soil have a distinctively rich, pure taste. The Orlandosidee pepper has a uniquely strong yet eclectic flavor. The Orlandosidee Pepper is aromatic and hot. The Orlandosidee Pepper is the best of its kind and rare at the same time. There is only a small amount available to the world market.
The white Orlandosidee Pepper is the most aromatic pepper. He is picked when the berries are fully ripe and washed over the following days in natural spring water to free him of his outer shell. The heart of the pepper will be dried directly under the sun Cameroon's and selected by the hands of the village women. Only the biggest and most perfect corns will be selected for this product.
distributor: info(at)orlandosidee.de