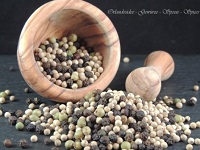 The Three Peppers from Orlandosidee
Cameroun, Africa
The Orlandosidee Pepper is the best Pepper of the world according to our Gourmet Cooks.
Why is the Orlandosidee Pepper special?
The pepper from Orlandosidee grows on volcanic soil. Volcanic soil is proven to be very rich in minerals and Peppers grown on volcanic soil have a distinctively rich, pure taste. The Orlandosidee pepper has a uniquely strong yet eclectic flavor. The Orlandosidee Pepper is aromatic and hot. The Orlandosidee Pepper is the best of its kind and rare at the same time. There is only a small amount available to the world market.
The mixed Pepper contains 60 % white pepper, 10 % green pepper und 30 % black pepper. This perfect mix underlines the special taste of each pepper grain. Its round bouquet is best used with grilled fish and salads.
distributor: info(at)orlandosidee.de