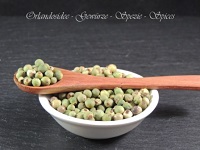 Green Pepper from Orlandosidee
The Orlandosidee Pepper is the best Pepper of the world according to our Gourmet Cooks.
Why is the Orlandosidee Pepper special?
The pepper from Orlandosidee grows on volcanic soil. Volcanic soil is proven to be very rich in minerals and Peppers grown on volcanic soil have a distinctively rich, pure taste. The Orlandosidee pepper has a uniquely strong yet eclectic flavor. The Orlandosidee Pepper is aromatic and hot. The Orlandosidee Pepper is the best of its kind and rare at the same time. There is only a small amount available to the world market.
The green pepper is picked before it reaches maturity and directly flown to France where it is shock dried to preserve its full flavor. This pepper is used best to prepare green pepper sauces and desserts.
Just give the dried Pepper grains in liquid and they return to their normal form.
Packaging and Pricing for Restaurants check Link Hotel Restaurants
distributor: info(at)orlandosidee.de