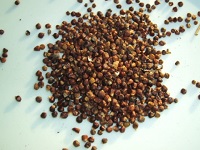 Guinea Pepper
Grains of Paradise, Guinea Pepper, Malagetta Pepper or Meleguetta Pepper belong to the ginger family / Zingiberaceae.
Grains of Paradise have their origin in West Africa / Ghana. They have been used as a substitude of pepper
Grains of Paradise have are spicy and hot with a bitter note. They go wonderfull with vegtables and Fish plates.
Guinea pepper can also be used to make beer!!!
distributor: info(at)orlandosidee.de