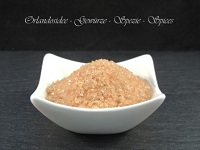 Sugar Cane with Cinnamon
Sugar Cane wit Cinnamon goes well in apple cakes, fresh pineapple, Coffee and lots more.
Sugar Cane grows only in very hot and humid climate. It need good soil and lots ofürain. Cultivated in Saint Marie on the Island Reunion its a crystallized sugar with a taste like caramel.
wholesalers: info@orlandosidee.de