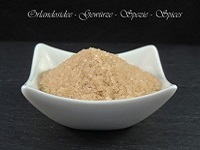 Sugar Cane with Cardamom
Sugar Cane grows only in very hot and humid climate. It need good soil and lots ofürain. Cultivated in Saint Marie on the Island Reunion its a crystallized sugar with a taste like caramel.
Use it to make Crème Brûlée, fruit salads or your Coffee and Tea.
wholesalers: info@orlandosidee.de