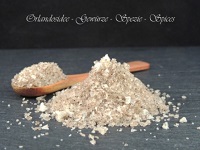 Fleur de Sel with Vanilla
Fleur de Sel with Bourbon Vanilla (5% natural Vanilla) is a wonderful combination of sweet and sour and goes well with any exotic meal.
Try it on fish or broccoli.
Fleur de Sel (Gourmet Salt) 100 % natural
Its purity, color and taste is the result of a complete hand made production. This Fleur de Sel produces itself on the surface to the Indian ocean through the perfect conditions of the nature. For a natural production of fleur de Sel the ocean needs a lot of sun and perfect wind conditions. In the early hours of the morning the women of the village go and take the Fleur de Sel and let it dry again under the sun. Fleur de Sel contains a lot of sodium, Jod, Magnesium and Calcium. Because of the high consistency of magnesium is the salt very good to prepare food for children.
distributor: info(at)orlandosidee.de